French winemakers are lamenting the smallest vintage in 60 years after spring frost damaged vines at Bordeaux chateaus like Angelus and Canon La Gaffeliere, while summer storms caused grape rot in Champagne.
Wine volume will fall 19 percent to the equivalent of about 4.9 billion bottles, the Agriculture Ministry forecasts. That would be the least since 1957, another year when a freeze destroyed spring buds, based on data from the ministry and the European Union's statistics department.
"The drop in production will be mainly on account of the hard spring frost," the ministry said. "The persistent drought in the southeast further reduces production."
France and Italy typically compete for the rank of world's biggest wine producer, with weather a key factor. While Italian vineyards also suffered damage from frost, drought and hot weather, volumes are still expected to outpace those in France. The Italian association of wine-industry technicians forecasts output of 47.2 million hectoliters, compared with 36.9 million hectoliters for France.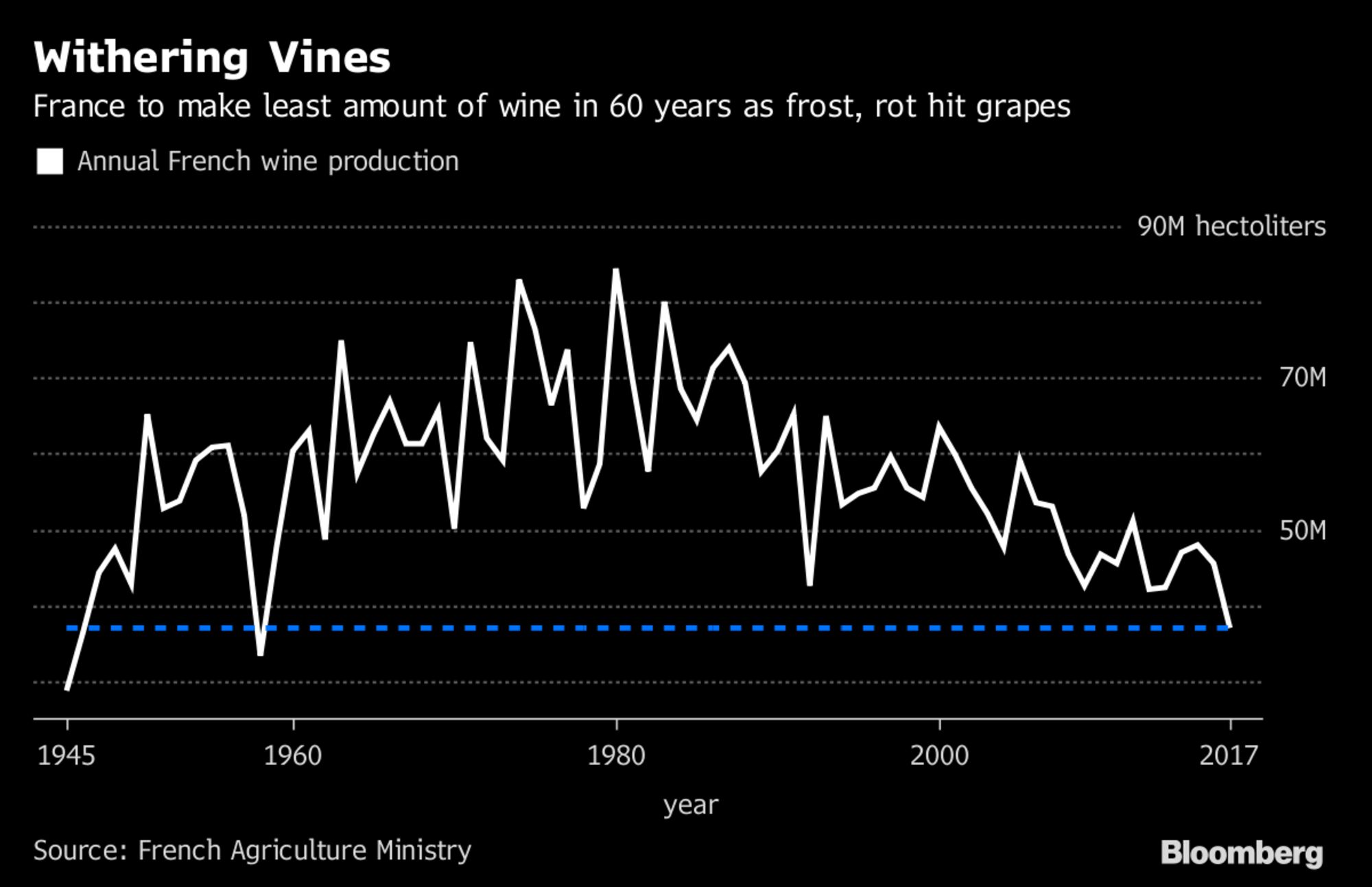 Bordeaux was among French wine regions hardest hit by frost in late April, with the volume of wine carrying the regional label falling 39 percent, according to the agriculture ministry. Even so, output was slightly higher than the ministry was expecting in August.
The frost struck in April as the vines that produce the likes of Chateau Petrus and Chateau Margaux were at their most vulnerable, generating fresh shoots after their winter dormancy. Growers in Bordeaux resorted to fires, fans and helicopters to take the edge off the bud-killing cold.
In Champagne, where the frost was less destructive than in 2016, production of designated-origin wines is seen falling 9 percent. That's a reversal from an August outlook for an increase, after summer storms caused grape damage and rot that required winemakers to sort their fruit more rigorously.
Champagne Reserves
Champagne houses such as LVMH's Moet & Chandon keep reserve stocks in their cellars that allow for regular production even in lean years.
Wine is France's most valuable farming product, with value-added production of 11.5 billion euros ($13.5 billion) in 2016, according to statistics office Insee. It's also the country's top agricultural export with a value of 8.25 billion euros last year, with Bordeaux and Champagne in the lead.
While frost was the problem in much of France, the country's southeast suffered from the opposite blight. Hot, dry and windy weather parched the grapes, reducing yields and grape juice, and harvesting was completed earlier than usual. Languedoc-Roussillon near the Mediterranean, where much of France's bulk wine is grown, also saw sharply reduced quantities.
Despite lower yields across much of France, the Burgundy-Beaujolais region expects a 6 percent increase in the volume of wine carrying a regional label. That's good news for fans of Burgundy's pinot noir-based reds and chardonnay whites, who've watched prices of some of the world's most expensive wines, like those of Domaine de la Romanee-Conti, soar in recent years as global demand grows and supplies dwindle.